Women who live in Coffee Shops & Other Stories
Written by:
Stella Pope Duarte
When I first saw this title, this came to mind.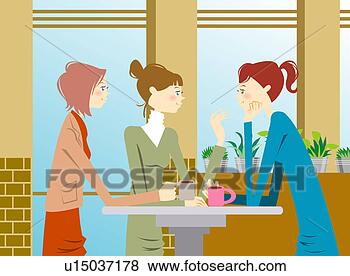 Women sitting around a coffee shop, talking excitedly, or discussing some literature. Women sitting around a coffee shop, maybe on their laptops, blogging or reading book club notes or checking Facebook, quien sabe? Or women like myself, huddled in a corner, sipping a warm cup of joe, and buried so deeply in a book, the outside world ceases to exist for a short while.
However, when I read the back cover I quickly realized it was not like that at all. It is a heavy overdose of reality, a book that touches those innermost sensitive parts of my being.
These stories hit me to the core and slam me with reality; the writer's voice is powerful. While reading, I cannot help but be wrapped up in the character's life and continue turning pages till I see what happens next.
Hermanas, if you want to read some interesting stories, based in Phoenix, AZ about the struggles of inner-city kids who learn too much, too soon, live through too much, too soon, then pick up this book!
La Bloga
reviewed it as well if want a more in-depth review.